3月5日,第十三届全国人民代表大会第二次会议在北京人民大会堂开幕。李克强代表国务院向大会作政府工作报告。以下是报告双语要点: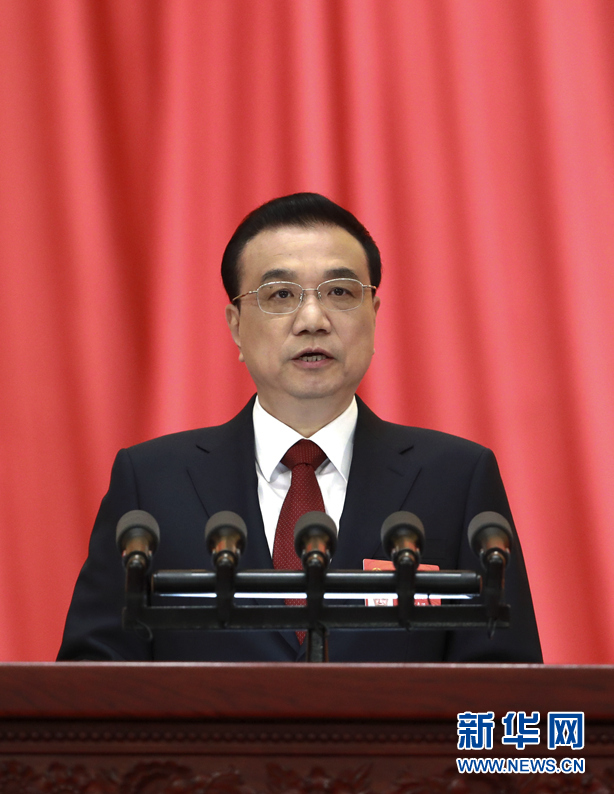 3月5日,第十三届全国人民代表大会第二次会议在北京人民大会堂开幕。国务院总理李克强作政府工作报告。新华社记者 庞兴雷 摄
一、2018年工作回顾
Looking back at the past year, we can see that our achievements did not come easily. China also faced a profound change in its external environment in 2018.
回顾过去一年,成绩来之不易。我们面对的是深刻变化的外部环境。
Setbacks in economic globalization, challenges to multilateralism, shocks in the international financial market, and especially the China-US economic and trade frictions, had an adverse effect on the production and business operations of some companies as well as on market expectations.
经济全球化遭遇波折,多边主义受到冲击,国际金融市场震荡,特别是中美经贸摩擦给一些企业生产经营、市场预期带来不利影响。
China faced severe challenges caused by the growing pains of economic transformation.
我们面对的是经济转型阵痛凸显的严峻挑战。
An interlacing of old and new issues and a combination of cyclical and structural problems brought changes in what was a generally stable economic performance, some of which caused concern.
新老矛盾交织,周期性、结构性问题叠加,经济运行稳中有变、变中有忧。
Moreover, China was facing a complicated terrain of increasing dilemmas, with multiple targets to attain, such as ensuring stable growth and preventing risks, as well as multiple tasks to complete, like promoting economic and social development.
我们面对的是两难多难问题增多的复杂局面。实现稳增长、防风险等多重目标,完成经济社会发展等多项任务。
The country also had multiple relationships to handle, including that between short-term and long-term interests, while the difficulty of making policy choices and moving work forward increased markedly.
处理好当前与长远等多种关系,政策抉择和工作推进的难度明显加大。
完成全年经济社会发展主要目标任务:
Gross domestic product (GDP) grew by 6.6 percent, exceeding 90 trillion yuan.
国内生产总值增长6.6%,总量突破90万亿元。
Consumer price index (CPI) rose 2.1 percent.
居民消费价格上涨2.1%。
A basic equilibrium in the balance of payments was maintained.
国际收支基本平衡。
China created 13.61 million new jobs.
城镇新增就业1361万人。
The service sector's contribution to growth approached 60%.
服务业对经济增长贡献率接近60%。
Last year, China cut about 1.3 trillion yuan in taxes and fees.
全年为企业和个人减税降费约1.3万亿元。
China brought down average tariff from 9.8% to 7.5%.
关税总水平由9.8%降至7.5%。
China has included 17 cancer drugs on the medical insurance list. Patients can be expected to purchase these anti-cancer drugs at lower prices.
17种抗癌药大幅降价并纳入国家医保目录。
The country's "three tough battles" against major risks, poverty and pollution got off to a good start in 2018.
三大攻坚战开局良好。
China has forestalled and defused major risks. The macro-economic leverage ratio trended toward a stable level, while the financial sector was generally stable.
防范化解重大风险,宏观杠杆率趋于稳定,金融运行总体平稳。
Precision poverty alleviation made significant progress, with the poor population in rural areas reduced by 13.86 million, including 2.8 million people assisted through relocation from inhospitable areas.
精准脱贫有力推进,农村贫困人口减少1386万,易地扶贫搬迁280万人。
Pollution prevention and control was strengthened, and PM2.5 levels continued to fall. Marked achievements were made in ecological conservation.
污染防治得到加强,细颗粒物(PM2.5)浓度继续下降,生态文明建设成效显著。
二、2019年经济社会发展总体要求和政策取向
经济社会发展的主要预期目标:
China set its GDP growth target for this year at between 6 percent and 6.5 percent.
今年经济社会发展的主要预期目标是:国内生产总值增长6%-6.5%。
China will raise its fiscal deficit target to 2.76 trillion yuan, or 2.8 percent of GDP, this year from 2.6 percent in 2018.
今年赤字率拟按2.8%安排,比去年预算高0.2个百分点;财政赤字2.76万亿元。
Total government expenditure is budgeted at over 23 trillion yuan, up by 6.5 percent from last year.
今年财政支出超过23万亿元,增长6.5%。
China aims to create over 11 million new urban jobs. The surveyed urban unemployment rate is projected to stay around 5.5 percent, and the registered urban unemployment rate within 4.5 percent.
城镇新增就业1100万人以上,调查失业率5.5%左右,登记失业率4.5%以内。
The country will continue to pursue a proactive fiscal policy and a prudent monetary policy.
积极的财政政策要加力提效。稳健的货币政策要松紧适度。
The country will implement an employment-first policy.
就业优先政策要全面发力。
China aims to maintain a consumer inflation level of around 3 percent.
居民消费价格涨幅3%左右。
The country will lift at least 10 million people out of poverty this year.
农村贫困人口减少1000万以上。
China's energy consumed per 10,000 yuan of its gross domestic product (GDP)will fall 3 percent.
单位国内生产总值能耗下降3%左右。
China will balance maintaining stable growth and guarding against risks to sustain healthy economic development in 2019.
平衡好稳增长与防风险的关系,确保经济持续健康发展。
The above projected targets are ambitious but realistic—they represent our aim of promoting high-quality development, are in keeping with the current realities of China's development, and are aligned with the goal of completing the building of a moderately prosperous society in all respect.
上述主要预期目标,体现了推动高质量发展要求,符合我国发展实际,与全面建成小康社会目标相衔接,是积极稳妥的。
三、2019年政府工作任务
(一)继续创新和完善宏观调控,确保经济运行在合理区间。
We will reduce the current value-added tax rate of 16 percent for manufacturing and other industries to 13 percent, and lower the rate for such industries as transportation and construction from 10 percent to 9 percent.
深化增值税改革,将制造业等行业现行16%的税率降至13%,将交通运输业、建筑业等行业现行10%的税率降至9%。
We will lower the share borne by employers for urban workers' basic aged-care insurance, and localities may cut contributions down to 16 percent.
下调城镇职工基本养老保险单位缴费比例,各地可降至16%。
A vocational skills training initiative will be implemented with 100 billion yuan from the surplus in unemployment insurance funds allocated to provide training for the 15 million targeted attendees, helping job seekers to upgrade skills or switch jobs or industries.
实施职业技能提升行动,从失业保险基金结余中拿出1000亿元,用于1500万人次以上的职工技能提升和转岗转业培训。
We will work to ensure employment for key groups such as college graduates, demobilized soldiers and migrant workers.
扎实做好高校毕业生、退役军人、农民工等重点群体就业工作。
(二)激发市场主体活力,着力优化营商环境。
We will further shorten the negative list on market entry.
要进一步缩减市场准入负面清单。
We will deepen market-orientated reforms in the electric power section, overrode surcharges on electricity prices, lower electricity costs in manufacturing and cut the average electricity price for general industrial and financial businesses by another 10 percent.
深化电力市场化改革,清理电价附加收费,降低制造业用电成本,一般工商业平均电价再降低10%。
(三)坚持创新引领发展,培育壮大新动能。
This year, average broadband service rates for small and medium enterprises will be lowered by another 15 percent, and average rates for mobile internet services will be further cut by more than 20 percent.
今年中小企业宽带平均资费再降低15%,移动网络流量平均资费再降低20%以上。
We will create industrial internet platforms and expand Intelligent Plus initiatives to facilitate transformation and upgradation of manufacturing sector.
打造工业互联网平台,拓展"智能+",为制造业转型升级赋能。
We will strengthen intellectual property (IP) protection across the board, improve the system of punitive compensation for IP infringements, and promote invention and creation and their industrial application.
全面加强知识产权保护,健全知识产权侵权惩罚性赔偿制度,促进发明创造和转化运用。
(四)促进形成强大国内市场,持续释放内需潜力。
We will take significant steps to develop the elderly care sector, especially community services. We will provide support to institutions offering services in communities, like day care, rehabilitation, assisted meals and assisted mobility, by using measures such as tax reductions, fee cuts and exemptions, funding support, and reduced charges for water, electricity, gas and heating.
要大力发展养老特别是社区养老服务业,对在社区提供日间照料、康复护理、助餐助行等服务的机构给予税费减免、资金支持、水电气热价格优惠等扶持。
We will expand effective investment, accelerating the implementation of a number of key projects. 800 billion yuan will be invested in railway construction, 1.8 trillion yuan in road construction and waterway projects. Work will start on a number of major water conservancy projects and the planning and construction of the Sichuan-Tibet Railway will be sped up.
合理扩大有效投资,加快实施一批重点项目。完成铁路投资8000亿元、公路水运投资1.8万亿元,再开工一批重大水利工程,加快川藏铁路规划建设。
(五)对标全面建成小康社会任务,扎实推进脱贫攻坚和乡村振兴。
We will continue to increase the size of special enrollment quotas in key universities for students from rural and poor areas.
继续增加重点高校专项招收农村和贫困地区学生人数。
We will improve agriculture, particularly grain production.
抓好农业特别是粮食生产。
We will make solid steps to upgrade rural infrastructure.
扎实推进乡村建设。
We will also deepen the comprehensive rural reforms.
全面深化农村改革。
(六)促进区域协调发展,提高新型城镇化质量。
To address unbalance and insufficient development, we will reform and improve relevant mechanism and policies to enable regions to complement each other with their respective strengths and promote integrated urban and rural development.
围绕解决发展不平衡不充分问题,改革完善相关机制和政策,推动区域优势互补、城乡融合发展。
In pursuing integrated development of the Beijing-Tianjin-Hebei region, we will reduce the noncapital functions in Beijing and construct the Xiongan New Area according to high standards.
京津冀协同发展重在疏解北京非首都功能,高标准建设雄安新区。
New urbanization should be people-centered, we need be better at conducting flexible governance and providing thoughtful and precise public services to make our cities more livable, and give them a more inclusive and welcoming feel.
新型城镇化要处处体现以人为核心,提高柔性化治理、精细化服务水平,让城市更加宜居,更具包容和人文关怀。
(七)加强污染防治和生态建设,大力推动绿色发展。
We will pursue both high-quality development and environmental protection by reforming and refining relevant systems. Green development is a critical element of modernizing an economy and a fundamental solution to pollution.
绿色发展是构建现代化经济体系的必然要求,是解决污染问题的根本之策。要改革完善相关制度,协同推动高质量发展与生态环境保护。
This year, sulfur dioxide and nitrogen oxide emissions will be cut by three percent, and there will be a continuous decline in PM2.5 density in key areas. Air pollution in and around the Beijing-Tianjin-Hebei region, in the Yangtze River Delta, and in the Fenhe-Weihe River Plain area will be further curbed.
今年二氧化硫、氮氧化物排放量要下降3%,重点地区细颗粒物(PM2.5)浓度继续下降。持续开展京津冀及周边、长三角、汾渭平原大气污染治理攻坚。
(八)深化重点领域改革,加快完善市场机制。
We will focus on resolving acute problems at key links, deepen relevant reforms, make our mechanisms and systems better able to promote high-quality development, and fully unlock market dynamism and social creativity
聚焦突出矛盾和关键环节,推动相关改革深化,健全与高质量发展相适应的体制机制,把市场活力和社会创造力充分释放出来。
We will accelerate State capital and SOE reforms. We will strengthen regulation of State assets, continue to conduct trials in reform State capital establishments and management companies so as to maintain and increase value of State assets
加快国资国企改革。加强和完善国有资产监管,推进国有资本投资、运营公司改革试点,促进国有资产保值增值。
We will promote reform efforts to clearly define the respective fiscal powers and expenditure responsibilities of central and local governments.
推进中央与地方财政事权和支出责任划分改革。
(九)推动全方位对外开放,培育国际经济合作和竞争新优势。
We will open more sectors and improve the process of opening-up. We will continue to promote opening-up based on flows of goods and factors of production, and give greater emphasis to opening-up based on rules and related institutions.
进一步拓展开放领域、优化开放布局,继续推动商品和要素流动型开放,更加注重规则等制度型开放。
We will continue to push forward China-US trade negotiations. We are committed to mutually beneficial cooperation and aiming to settle trade disputes through discussions in an equal manner.
继续推动中美经贸磋商。中国秉持互利合作、共赢发展,一贯主张通过平等协商解决贸易争端。
(十)加快发展社会事业,更好保障和改善民生。
We will keep government budgetary spending on education above 4% of GDP.
国家财政性教育经费占国内生产总值比例继续保持在4%以上。
We will continue to increase basic medical insurance and serious disease insurance protection for rural and non-working urban residents.
继续提高城乡居民基本医保和大病保险保障水平。
We will continue to increase the basic retirement pension, urban and rural subsistence allowances, and special assistance.
继续提高退休人员基本养老金,适当提高城乡低保、专项救助等标准。
(中国日报网英语点津)